Persistence code samples
Below are sketches of essential classes of the PERSIST framework.
For an open discussion on the design choices please have a look at the persistence framework design discussion.
You can download the source code here (TODO: provide a link to the sources)
An example of an actually implemented library built according to the PERSIST framework is dadle.
You can also go back to the persistence unified page.
Simplified BON diagram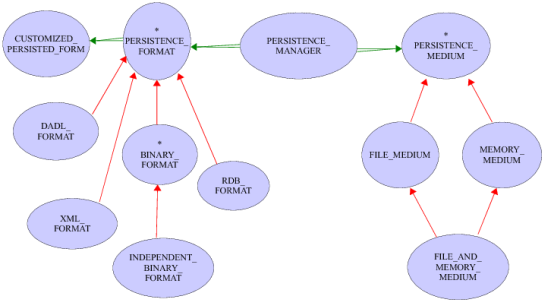 PERSISTENCE_MANAGER
class


	PERSISTENCE_MANAGER
 


feature

 

-- Access


 
	medium

:

 PERSISTENCE_MEDIUM
			

-- Chosen medium


 
	format

:

 PERSISTENCE_FORMAT
			

-- Chosen format


 


feature

 

-- Basic operations


 
	store 

(

an_object

:

 

ANY

)


			

-- Persists an_object using the format and medium stored by current object.


		

do


			format.

store

 

(

an_object, medium

)


		

end


 
	retrieve

:

 

ANY


			

-- Retrieves an_object using the medium and format stored by current object.


		

do


			

Result

 

:=

 format.

retrieve

 

(

medium

)


		

end


 


end
BINARY_PERSISTENCE_MANAGER
class


	BINARY_PERSISTENCE_MANAGER
 


inherit


	PERSISTENCE_MANAGER
 


create


	make
 


feature

 

-- Initialization


 
	make 

(

file_name

:

 

STRING

)


			

-- Initialization procedure


		

do


			

create

 

{

FILE_MEDIUM

}

 medium.

make

 

(

file_name

)


			

create

 

{

INDEPENDENT_BINARY_FORMAT

}

 format
		

end


 


end
PERSISTENCE_FORMAT
deferred

 

class


	PERSISTENCE_FORMAT
 


feature

 

-- Basic operations


 
       serialized_form

:

 SERIALIZED_FORM
			

-- Desired serialized form. If exists, this is what will be serialized.


 
       set_serialized_form 

(

custom_serialized

:

 SERIALIZED_FORM

)


			

-- Set desired custom serialized form. This is what will be serialized.


		

do


			 serialized_form 

:=

 custom_serialized
		

ensure


			object_effect

:

 custom_ser 

=

 serialized_form
		

end


 
	store 

(

object

:

 

ANY

; medium

:

 PERSISTENCE_MEDIUM

)


			

-- Store 'object' using medium


		

deferred


		

end


 
	retrieve 

(

medium

:

 PERSISTENCE_MEDIUM

)

:

ANY


		

deferred


		

end




end
BINARY_FORMAT
deferred

 

class


	BINARY_FORMAT
 


inherit


	PERSISTENCE_FORMAT
		

redefine


			store,
			retrieve
		

end


 


feature

 

-- Access


 
	store_handler

:

 SED_STORABLE_FACILITIES
 
	serializer

:

 SED_MEDIUM_READER_WRITER
 


feature

 

-- Basic operations


 
	store 

(

object

:

 

ANY

; data_file

:

 FILE_MEDIUM

)


			

-- stores 'object' using a FILE_MEDIUM


		

do


			

create

 store_handler
			

create

 serializer.

make

 

(

data_file.

raw_file

)


			

if

 data_file.

exists

 

then


				data_file.

reopen_write

 

(

data_file.

file_name

)


			

else


				data_file.

open_write


			

end


			serializer.

set_for_writing


			store_now 

(

object

)


		

end


 
	store_now 

(

object_to_store

:

 

ANY

)


			

-- Proper store operation depends on specific descendant.


		

deferred


		

end


 
	retrieve 

(

data_file

:

 FILE_MEDIUM

)

:

 

ANY


			

-- Retrieve object using a FILE_MEDIUM


		

do


			

create

 store_handler
			

create

 serializer.

make

 

(

data_file.

raw_file

)


			

if

 data_file.

exists

 

then


				data_file.

open_read


				serializer.

set_for_reading


				

Result

:=

 store_handler.

retrieved

 

(

serializer,

true

)


			

else


				print 

(

"

%N

Data file does not exist! "

)


			

end


		

end


 


end
INDEPENDENT_BINARY_FORMAT
class


	INDEPENDENT_BINARY_FORMAT
 


inherit


	BINARY_FORMAT
 


feature

 

-- Access


 
	optimized_for_retrieval

:

 

BOOLEAN


 


feature

 

-- Status setting


 
	set_optimized_for_retrieval 

(

is_optimized_for_retrieval

:

BOOLEAN

)


		

do


			optimized_for_retrieval

:=

 is_optimized_for_retrieval
		

ensure


			optimized_for_retrieval_effect

:

 optimized_for_retrieval 

=

 is_optimized_for_retrieval
		

end


 


feature

 

-- Basic operations


 
	store_now 

(

object_to_store

:

ANY

)


		

do


			store_handler.

independent_store

(

object_to_store,serializer,optimized_for_retrieval

)


		

end


 


end
FILE_MEDIUM
class


	FILE_MEDIUM
 


inherit


	PERSISTENCE_MEDIUM
 


create


	make
 


feature

 

-- Initialization


 
	make 

(

a_file_name

:

STRING

)


		

do


			

create

 raw_file.

make

 

(

a_file_name

)


			file_name

:=

a_file_name
		

ensure


			file_name_effect

:

 file_name 

=

 a_file_name
		

end


 


feature

 

-- Access


 
	raw_file

:

 

RAW_FILE


 
	file_name

:

 

STRING


 


feature

 

-- Status report


 
	exists

:

 

BOOLEAN


		

do


			

Result

 

:=

 raw_file.

exists


		

end


 


feature

 

-- Basic operations


 
	reopen_write 

(

a_file_name

:

 

STRING

)


			

-- Reopens the file named 'a_file_name' for writing.


		

do


			raw_file.

reopen_write

 

(

a_file_name

)


		

end


 
	open_write
			

-- Open the current file for writing.


		

do


			raw_file.

open_write


		

end


 
	open_read
			

-- Open the current file for reading.


		

do


			raw_file.

open_read


		

end


 


end